About two months ago I purchased a new work chair: "Embody" by Herman Miller. I wanted to sit on it for a while before I shared my thoughts.
First, just look. It's like something out of Star Trek, even in the muted black-on-black that I naturally chose: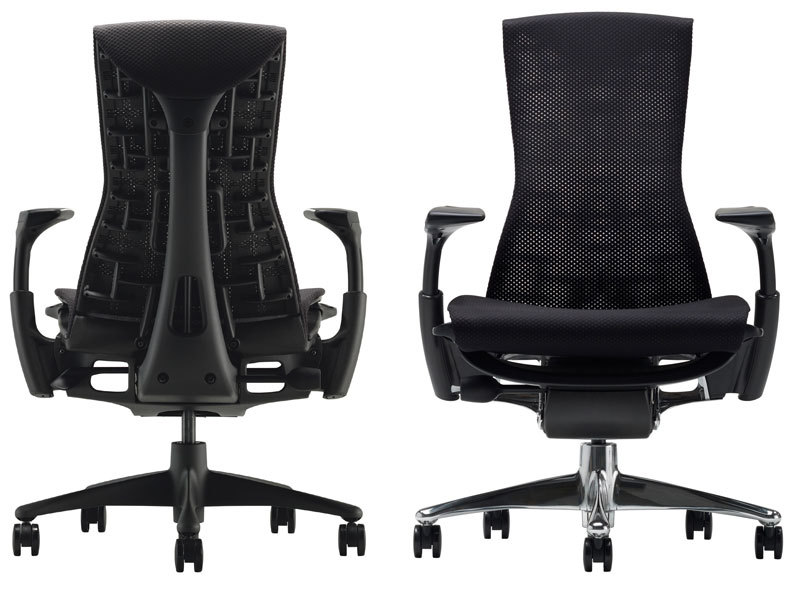 As you can see, it's quite striking. But I didn't buy it for its looks — I bought it for my comfort and my health. I have a sedentary profession, spending about 12 hours a day sitting in front of a computer display. I was sitting on a crappy $100 generic Office Depot office chair. Well, "sitting" is generous. Due to its discomfort and lack of adjustability, I found myself curled up, sitting on my legs, or precariously hunched forward. It was causing me back and pelvic pain, and it was affecting my productivity.
I was a fan of Herman Miller's blockbuster hit, the Aeron, but I was intrigued by the concept behind the newer Embody. It purported to adjust to how you sit, instead of making you conform to it. "Marketing BS, probably," I thought, but sought out a local dealer to try out.
First impressions
Wow. They weren't kidding. The back is a flexible system of individual "cells" that actually twists with your spine as you lean back and left or right. It follows you and supports you. It's a bit disconcerting at first, when you lean back. Strangely, even locked in its upright position, you can lean back in the shoulders. When doing this, the back of the chair actually changes shape to match your spine. It took me a while to get used to this and trust the chair. It doesn't feel natural for a chair's back to change shape! Once I got used to it, I loved it. It's perfect for those hands-behind-your-head lean-back-and-ponder moments.
The back is thin towards the top. It's exactly as thin as my torso at the top, which comes up to about mid-shoulder on me (I'm 6 foot 4). This gives your arms a lot of freedom. I can mimic a runner and fully swing my arms. I've found that this brachial freedom opens up my chest and allows for deeper, more natural breathing.
Adjustments
Reclination has four positions: upright, and three varying degrees of reclination. Setting the lock at any of those three reclined settings doesn't stop you from leaning forward — it just sets how far you can recline. I use either the upright or the slightly reclined position for working, and the fully reclined position for, say, watching a video.
The arms adjust in-and-out and up-and-down. For hardcore work, I have them all the way in, to support my hands as I type. For more relaxed work, I may have them out. They adjust fairly far in (so much that I have to move one of them out to stand up!) They're very comfortable in this position and are great for typing.
The length of the seat is adjustable. Since I am tall, I have it adjusted all the way out. It reaches almost to my knees. Shorter people can adjust it in, to fit their leg length.
The reclination resistance is adjustable. At full tension, I have to put my full weight on the back and even press with my legs a little to get the chair to recline fully. When at the loosest tension, there's almost no resistance. It's infinitely adjustable by turning a knob, so there will be a suitable setting for everyone.
Also adjustable is the lumbar support. This actually changes the shape of the back, and you can curve it to match the bend of your spine.
Height is adjustable as you'd expect. I have it at its lowest setting, for the proper monitor viewing angle.
Comfort
It's incredibly comfortable. I still have some bad habits that I'm trying to break, like sitting not-quite-straight, but I'm improving as I'm getting used to the chair's ability to support me. The first day I had it, I sat down and reached to my right to pick something up. The chair kept my spine supported as I reached. About four stiff vertebrae popped as I turned. Ahh. I find I'm able to sit for longer periods without becoming uncomfortable. This is because I'm not sitting still. I'm moving, and the chair is moving with me.
Value
At $1300 (with arms, and the upgraded fabric), this isn't a cheap chair. I had to schedule an appointment at a showroom to even try it out. But for someone like me who spends 12 hours a day sitting in it, and factoring in the 12 year warranty, it was an easy decision. Whether it's twice as good as a $650 chair is doubtful. There are lots of good options out there in that price range, which you'll likely be very happy with. But if you can swing the price, it's a darn good chair, and I'm happy I got it.